We'll have more than 30 sessions, so check back for additional sessions, session descriptions and the complete schedule. Speakers are unlikely to change – but they might.

An Introduction to Annual Giving and the Northeast Annual Giving Conference
(Monday Afternoon Pre-Conference Workshop)
Skylar Beaver, The Lawrenceville School

There's a special FREE preconference workshop on Monday afternoon, March 27th, featuring recognized annual giving expert and NEAGC hall-of-famer Skylar Beaver teaching a special "Introduction to Annual Giving… and NEAGC" workshop. This pre-conference program is FREE, but is a bonus session only for those attendees coming in-person to NEAGC in Baltimore. We'll talk about the evolving goals, methods, channels, messages, metrics — and the very idea of "annual giving" itself. Pack up your newbies (or your "oldbies" in need of a refresh)!

Anatomy of a Digital End-of-Year Campaign
Stephanie Rasamny, MainSpring Media Communications

Calendar year end campaigns are critical to our annual giving efforts. Thirty percent of individual charitable giving in the US occurs in December, and nearly half of online giving for the year is secured the final week of December. To capitalize on these trends, we need to have a strong digital plan in place and we need set our plans in motion well before December. In this session, we'll dissect a calendar year end campaign – strategy, engaging, warming and closing. Our focus will be on digital tools though we will touch on how to integrate other channels. You'll walk away with key takeaways and action items to set your team up for success for the EOCY FY24.
Ask Us Anything! Your Conference, Your Session.
Jake Strang, University of Pittsburgh, Moderator with Skylar Beaver, The Lawrenceville School, Elizabeth Keppel, JHU and Simone Moran, York University
Join a panel of industry veterans ready to discuss and talk through strategies, ideas, and questions that you send us. Prior to the conference, a survey will be sent asking for topics, questions, or potential strategies to enhance your program. Feel free to take this opportunity to submit anything on your mind. We'll attempt to get through everything you submit and still leave time for some live, on the fly Q&A.
Best Job on Campus: Why Students Belong in Annual Giving
Emily Etzkorn, VanillaSoft
Student employees are a critical piece of education annual giving programs. In this session, Emily Etzkorn, Fundraising Evangelist with VanillaSoft, will look at the benefits of having students as part of the annual giving office – even if you don't have an engagement center. She'll look at the importance of recruiting, training, and coaching of students to make them an effective and integral part of the annual giving team.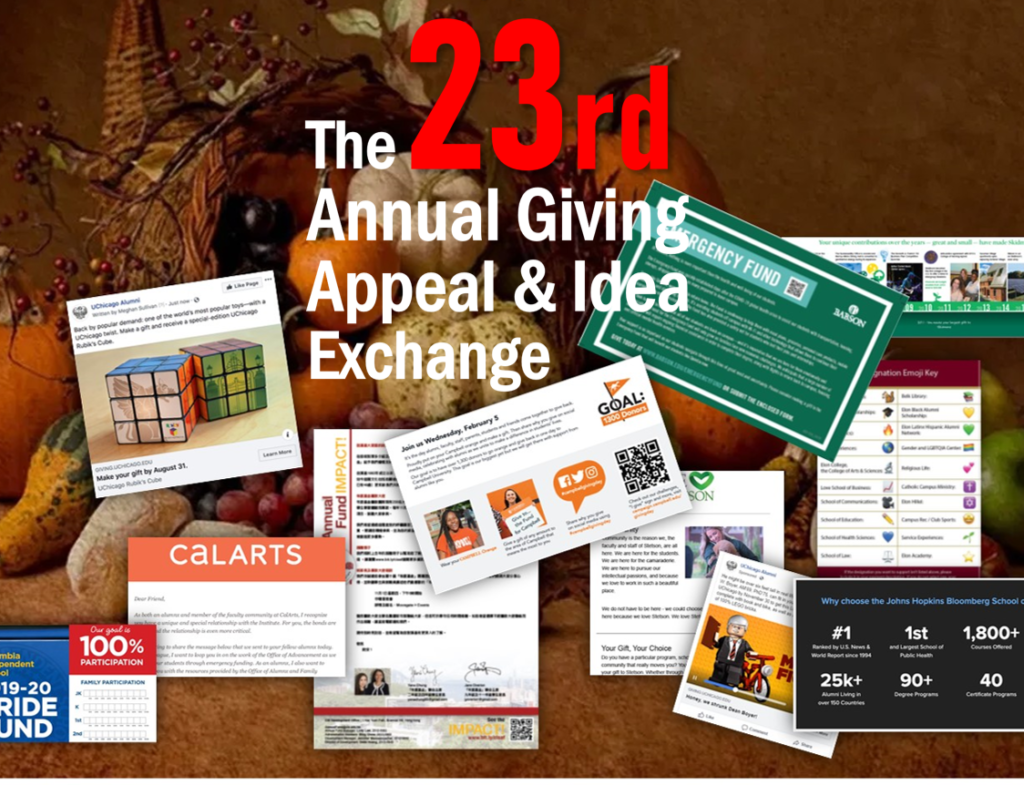 The Best of the 23rd Annual Giving Idea Exchange
Bob Burdenski, Robert Burdenski Annual Giving
For 23 years, Bob Burdenski has hosted an annual exchange where hundreds of institutions share thousands of annual giving innovations, ideas and success stories. Awesome appeals, terrific technologies, dynamic discoveries and marvelous messages. It was a great year of pushing the envelope in direct mail, digital and beyond. Come and see 3-time CASE Innovations in Annual Giving author Bob Burdenski dump out his bag of BOB (Best of the Bunch) favorites for some of the clever fundraising ideas of the year.

Building the Future Donor Pipeline – Successful YA and Student Philanthropy Topics
Marissa Fitzgerald, Fairfield University, Madeline Sanzo, University of Connecticut Foundation and Julie Knight, Carnegie Mellon University

The next generation of alumni volunteers and donors are as closer to you than any other group. Cultivating relationships with current students and the most recent alumni can lead to a lifetime of alumni engagement and dedication to giving back. Join us as we work through approaches, success stories and tales of caution from 3 different categories of institutions who have put the work into tackling this dynamic, elusive, differently-responsive group of soon to be and recent alumni. Whether you are from a team of a hundred or a team of 10 – this session will help you walk away with tips to educate, engage, and empower your students and most recent graduates into becoming your institution's leaders of tomorrow.

Building, Retaining and Motivating Annual Giving Teams
Elaine Ezrapour, Fordham University, Daniel Burgner, The George Washington University, Lauren Grabowski, University of Connecticut Foundation and Carmela Rossi, Colby College

Cause-Based Crowdfunding: A Crowdfunding System to Educate and inspire
Jon Gregory, Cornell University
Crowdfunding does so much more than provide a vehicle for affinity based fundraising. It's an opportunity to provide education through action. Think of our work with students as experiential learning–we are not just planting the seeds for our next group of alumni volunteers and donors, but giving them life skills by teaching them how to execute a turn-key fundraising plan. Our student centric crowdfunding program has become a cornerstone for student and young alumni donor growth and education. Learn about the timeline, trainings, checklists, and toolkit the Big Red uses as Cornell approaches its tenth year of Cornell Crowdfunding!

Direct Mail: Start Looking at Your Appeals from Your Donor's Perspective
Paul Barry, Cape Cod Mail Group

Direct mail continues to generate significant annual giving revenue, yet many institutions don't focus on it as they once did. The reason? They're convinced that, in an increasingly mobile society, "No One Reads Mail Anymore". In this session, we take exception to this belief by challenging you to see things from your donor's perspective. We'll suggest strategic shifts in the way you engage current and prospective donors to ensure your mail program remains a viable (and cost-effective) source of annual giving revenue in FY23 and beyond.

Direct Mail: Tips, Tricks, and Tactics
Matt Sulzer, MCR
Is it time to spice up your approach? Direct mail is fundamental to building the donor pipeline, but with new channels in the mix it may be time to revisit your mail strategy. Join this conversation to discuss printing hallmarks that target the right people, grab donor attention, calendar the project, and integrate storytelling to optimize results. Attendees will receive free samples from other institutions and gain insights on:
✔ Audiences – segmenting, engagement, personalization
✔ Calendaring – channel integration, production, timing
✔ Design – photos, layout, color
✔ Packaging – envelopes, paper stocks, inserts

Don't Corner Yourself
Dawn Baumgarten, Jennifer Boscia Smith, Kristen Murphy and Nicole Shepherd
The University at Buffalo

If Annual Giving was a square, there are corners for engagement, communication, solicitation and stewardship, all meeting in the middle. Learn how the University at Buffalo team works in harmony to support the annual giving strategy.
Fundraising BS: Leveraging Behavioral Science to Drive Donor Conversion Rates
Jamie Williams, GiveCampus
Making it easier for donors to give may just be the most effective strategy in the savvy fundraiser's toolkit—and we've got the conversion metrics (and science!) to prove it. In this session, we'll show you how applying classic principles of persuasion science to your everyday fundraising challenges can dramatically improve donor engagement and move the needle on dollars raised. Using the Fogg Behavior Model as a framework for understanding donor motivation and ability, Jamie Williams will share the simple strategies you can implement to achieve impressive real-world results.
Give Now, Pay Later: Flexible Giving for the Digital Wallet
Adam Martel, Givzey

Venmo, Apple Pay, PayPal, Visa Checkout… Digital wallets are growing every year. While some institutions find reasons to limit these options, leaders who welcome new giving options are seeing as much as 10% of all online giving come through digital wallets. Donor behaviors are changing due to pure convenience. But what if you were to make your digital wallet payment options more than just convenient? What if you were to make them valuable to the donor and your institution, alike? Give Now, Pay Later flexible giving is taking the value of the digital wallet to the next level. Donors gain the flexibility to pay for a gift over time and institutions collect the full gift amount, immediately. This talk will examine the value of digital wallets and show you ways they can help you increase gifts for your annual fund.
How to Talk Good -or- Crafting a Message that will Connect with Donors
Jon Hunn, Vinyl Marketing

Sometimes, it can feel like the messages you send out to your donor base end up somewhere near the darkest corner of a bottomless void. You put in so much work, but the results just aren't what they could be. But, what if you could say the right thing, at the right time, to the right person? That's what this talk is all about. You'll learn how to identify your donors' specific motivations and what really spurs them to action, how brand and donor personalities factor into the equation, how to turn empathy into your go-to superpower, why good cadences are necessary for winning both hearts and minds, and so much more.

An Independent School Annual Giving Forum
Skylar Beaver, The Lawrenceville School, Laura Christian, The Winsor School, Katie Grant, The Peddie School, Amily Dunlap, Groton, Director of the Groton Fund
Launching a Donor Engagement Center at GWU
Justin Ware and Sophia Macek, firstname.co, and Daniel Burgner, the George Washington University
In March of 2020, the George Washington University call center went dark, shuttered along with much of the world due to the COVID-19 pandemic. Flash forward to January 2023 and students are back in fundraising roles at GWU, but the model is different: multichannel, video-centric, with journey-based marketing tactics leading the way. Hear from GWU leadership and partner company firstname.co as we dig into the following:
✔ The decision-making process that led to GWU launching a multichannel Donor Engagement Center (DEC)
✔ Metrics to understand the performance of the GWU DEC
✔ The core elements of a student-centric, video-first Donor Engagement Center

Let's Talk About Digital Gift Officers
Janelle Stephenson, University of Connecticut, Jake Strang, University of Pittsburgh, Lane Sulzer, Vassar College, Sarah Harlan, UC Davis

What's all the fuss about DGO/DXOs? What do they actually do? Are you wondering if your organization could benefit from one? Are you interested but not ready/able to commit an FTE to the role? What are some of the best practices you might incorporate? This will be a forum discussion with a panel of existing digital gift officers and managers. Attendees should come away with a better idea of how they can leverage this emerging role as part of their program.

A Love Connection: Annual Giving & Engagement within an Advancement Model
Colin Hennessey, the University of Iowa Center for Advancement

Annual giving and constituent engagement haven't always been close friends – they may have even been frenemies. With more shops moving to an advancement model, we can't afford to take our toys and go home. Instead, we must find every opportunity to work together, leverage resources, and align goals to move forward. In this session, we will discuss how to work with your engagement colleagues, add value for both teams, and ultimately deepen the relationship with your audience. Hear examples of success, failure, and lessons learned. You'll walk away with ideas to test and tools to help advance your internal relationships while advancing your organizational mission.

Planning & Executing a Successful Giving Day Campaign
Alyssa Breunig, Quinnipiac University

An overview about planning and executing a successful giving day campaign, including:
– Niche audiences and programs beyond an overall institution giving day (i.e. athletics);
– The importance of early engagement of alumni, parents and other advocates,
– Gaining internal staff (ex: athletic coaches) buy-in;
– The importance of social media promotion and segmentation
Phonathons & Engagement Centers – Oh the Possibilities!
Angie Myers, LEAD Philanthropy

It's no secret that the pressure is on to find the optimal way to connect with your alumni. What is the best strategy? Calling? Personalized videos? Texting? Emails? Hear about effective ways to maximize our amazing student employees. Join us for "How do you evolve your Phonathon into an Engagement Center?" as we discuss adapting our efforts to make our student fundraisers successful.

A Leadership Annual Giving Forum
Dulcie Meyer, Hobart and William Smith Colleges, and Bob Burdenski

Leadership annual giving can lead to a pipeline-building mid-level program. In this session, you'll hear how and why Hobart and William Smith started a mid-level program, lessons learned, and critical takeaways. This session is for anyone with a mid-level program or considering one. Come prepared to share aspects of your organization's leadership annual giving program for a group discussion.
The Recurring Riddle of Regular Giving
Bob Burdenski

We've chased the elusive, effective recurring giving program for years. We're proud that we can set up a recurring gift, but most educational institutions (and other not-for-profits) still struggle to attract significant numbers of recurring gift (monthly or otherwise) donors. There are successes to be found in other sectors (PBS) and even other countries (UK). What are the obstacles – and solutions – here in the U.S.? Come and see a collection of recurring giving strategies for promoting, stewarding, recognizing and sustaining a recurring donor base. Join CASE Laureate Bob Burdenski for a range of regular giving samples, solutions and strategies from other institutions.

RetriEVER Grateful Tour – Hybrid Regional Programs & Engaged Leadership
Stanyell Odom, Carl Fowlkes, Poulomi Banerjee, UMBC
Question: What to do with a presidential transition at the same time a campaign is concluding (the most difficult stretch!)? Answer: Go on tour! Learn how UMBC's Alumni Engagement, Annual Giving, Major Gifts, and Communications & Marketing team collaborated on the RetriEVER Grateful Tour, a national tour with campus leaders engaged in discussions with the outgoing president. Discover how fresh marketing strategies boosted attendance (even during a pandemic) including robo-calls and paid social media. Hear how the tour engaged alumni and identified new volunteers. See the giving impact for annual and major gifts.

The Spaghetti Method: Creative Brainstorming to See What Sticks
Diana Forbus, University of Maryland
In this active session, participants will work in small groups on creative brainstorming exercises, ultimately applying these skills to answer a ""How Might We…"" question around an Annual Giving topic. The idea of this session is not to necessarily walk away with the perfect one-size-fits-all answer, but to explore the possibilities that emerge when you foster an environment of creative thinking. Often when we're thinking about fundraising we get bogged down by what is feasible, dismissing ideas that just won't work and end up with familiar results. In this session, participants will generate answers to the question and evaluate these ideas (good and bad, creative and wacky, unknown and familiar) for potential, and develop them for feasibility. It's really easy for people to pre-judge their own ideas as weird and therefore wrong, when we should be comfortable throwing out ideas, no matter what. Oftentimes, some of the most creative ideas come from saying yes and then seeing if you can make something work instead of just automatically saying no.
Topping Off the Pyramid: Annual Leadership Gifts
Tammie Ruda, West Wind Consulting

Institutions are always looking to their annual funds to provide them with a growing source of income. While annual fund teams are usually expected to pay attention to 100% of the prospect pool, 90% of the dollars received typically come from only 10% of the donors. In this session, we'll give ourselves the opportunity to focus on that 10% and talk about proven ways to identify, cultivate, solicit, and steward these top potential donors to maximize their support for your institution. Whether your school's leadership gifts start at $250 or $2,500, this session will apply to you.
Transforming Your Annual Giving Processes
Elizabeth Keppel and Aly Harant, The Johns Hopkins University

Follow the transformative business process improvements that enable a high-volume annual giving shop to operate at its highest possible efficiency. Presenters will break down a year in review of project management enhancements, including: mapping out current/former workflows, identifying inefficiencies, implementing solutions, and measuring progress. Attendees should come away armed with the right questions to ask and the best steps to take to get their annual giving team running like a well-oiled machine.

"Videos, GIFs & More, Oh My!" — Engaging with Tech Tools
Emma Barnes O'Neill, Blair Academy

We've all heard video is the 'it thing', but sometimes we're stuck wondering how to come up with the idea, do I need special equipment? what will the roi be at the end of the campaign? Whether you are new to using video or you're a pro, join me as we talk about why video is so important. We'll go through different use cases, where and when it is best to use video for your school. Of course, we'll have plenty of examples for you to take and tweak however you want.

Volunteer Management Across the Decades: Using Customized Approaches
Dominique Marcial-Clark, The Lawrenceville School

As much as we'd like to believe our volunteer programs are a one-size fits all approach, that's oftentimes not the reality when we are working with cross-generational volunteers. Join The Lawrenceville School's Associate Director of Reunion and Class Campaigns to explore tailor-made volunteer programs for age-based cohorts from job description to volunteer stewardship. Attendees will develop an understanding of custom solicitation messaging, media platform usage, and communication styles and strategies for both groups of volunteers.