Here are NEAGC's sessions for Wednesday, March 28th.
All times are Eastern.

Download the at-a-glance conference schedule.
8:00-9:00 a.m. – Breakfast in the Ballroom
9:00-10:00 a.m. – Breakout Sessions
Don't Corner Yourself
Dawn Baumgarten, Jennifer Boscia Smith, Kristen Murphy and Nicole Shepherd
The University at Buffalo
UC Ballroom
If Annual Giving was a square, there are corners for engagement, communication, solicitation and stewardship, all meeting in the middle. Learn how the University at Buffalo team works in harmony to support the annual giving strategy.
A Leadership Annual Giving Forum
Dulcie Meyer, Hobart and William Smith Colleges, and Bob Burdenski
UC 310
Leadership annual giving can lead to a pipeline-building mid-level program. In this session, you'll hear how and why Hobart and William Smith started a mid-level program, lessons learned, and critical takeaways. This session is for anyone with a mid-level program or considering one. Come prepared to share aspects of your organization's leadership annual giving program for a group discussion.
How to Talk Good -or- Crafting a Message that will Connect with Donors
Jon Hunn, Vinyl Marketing
UC 312
Sometimes, it can feel like the messages you send out to your donor base end up somewhere near the darkest corner of a bottomless void. You put in so much work, but the results just aren't what they could be. But, what if you could say the right thing, at the right time, to the right person? That's what this talk is all about. You'll learn how to identify your donors' specific motivations and what really spurs them to action, how brand and donor personalities factor into the equation, how to turn empathy into your go-to superpower, why good cadences are necessary for winning both hearts and minds, and so much more.
Ask Us Anything! Your Conference, Your Session.
Jake Strang, University of Pittsburgh, Moderator with Skylar Beaver, The Lawrenceville School, Elizabeth Keppel, JHU and Simone Moran, York University
The Discussion Lounge
Join a panel of industry veterans ready to discuss and talk through strategies, ideas, and questions that you send us. Prior to the conference, a survey will be sent asking for topics, questions, or potential strategies to enhance your program. Feel free to take this opportunity to submit anything on your mind. We'll attempt to get through everything you submit and still leave time for some live, on the fly Q&A.
10:00-10:30 a.m. – Break
10:30-11:30 a.m. – Breakout Sessions
Building the Future Donor Pipeline – Successful YA and Student Philanthropy Topics
Marissa Fitzgerald, Fairfield University, Madeline Sanzo, University of Connecticut Foundation and Julie Knight, Carnegie Mellon University
UC Ballroom

The next generation of alumni volunteers and donors are as closer to you than any other group. Cultivating relationships with current students and the most recent alumni can lead to a lifetime of alumni engagement and dedication to giving back. Join us as we work through approaches, success stories and tales of caution from 3 different categories of institutions who have put the work into tackling this dynamic, elusive, differently-responsive group of soon to be and recent alumni. Whether you are from a team of a hundred or a team of 10 – this session will help you walk away with tips to educate, engage, and empower your students and most recent graduates into becoming your institution's leaders of tomorrow.
Direct Mail: Start Looking at Your Appeals from Your Donor's Perspective
Paul Barry, Cape Cod Mail Group
UC 310
Direct mail continues to generate significant annual giving revenue, yet many institutions don't focus on it as they once did. The reason? They're convinced that, in an increasingly mobile society, "No One Reads Mail Anymore". In this session, we take exception to this belief by challenging you to see things from your donor's perspective. We'll suggest strategic shifts in the way you engage current and prospective donors to ensure your mail program remains a viable (and cost-effective) source of annual giving revenue in FY23 and beyond.
Phonathons & Engagement Centers – Oh the Possibilities!
Clark Gafke, LEAD Philanthropy
UC 312
It's no secret that the pressure is on to find the optimal way to connect with your alumni. What is the best strategy? Calling? Personalized videos? Texting? Emails? Hear about effective ways to maximize our amazing student employees. Join us for "How do you evolve your Phonathon into an Engagement Center?" as we discuss adapting our efforts to make our student fundraisers successful.

Cause-Based Crowdfunding: A Crowdfunding System to Educate and inspire
Jon Gregory, Cornell University
The Discussion Lounge
Crowdfunding does so much more than provide a vehicle for affinity based fundraising. It's an opportunity to provide education through action. Think of our work with students as experiential learning–we are not just planting the seeds for our next group of alumni volunteers and donors, but giving them life skills by teaching them how to execute a turn-key fundraising plan. Our student centric crowdfunding program has become a cornerstone for student and young alumni donor growth and education. Learn about the timeline, trainings, checklists, and toolkit the Big Red uses as Cornell approaches its tenth year of Cornell Crowdfunding!
11:30-Noon. – Break
Noon-1:00 p.m. – Breakout Sessions
The Best of the 23rd Annual Giving Idea Exchange
Bob Burdenski, Robert Burdenski Annual Giving
UC Ballroom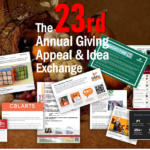 For 23 years, Bob Burdenski has hosted an annual exchange where hundreds of institutions share thousands of annual giving innovations, ideas and success stories. Awesome appeals, terrific technologies, dynamic discoveries and marvelous messages. It was a great year of pushing the envelope in direct mail, digital and beyond. Come and see 3-time CASE Innovations in Annual Giving author Bob Burdenski dump out his bag of BOB (Best of the Bunch) favorites for some of the clever fundraising ideas of the year.

"Videos, GIFs & More, Oh My!" — Engaging with Tech Tools
Emma Barnes O'Neill, Blair Academy
UC 310

We've all heard video is the 'it thing', but sometimes we're stuck wondering how to come up with the idea, do I need special equipment? what will the roi be at the end of the campaign? Whether you are new to using video or you're a pro, join me as we talk about why video is so important. We'll go through different use cases, where and when it is best to use video for your school. Of course, we'll have plenty of examples for you to take and tweak however you want.
Best Job on Campus: Why Students Belong in Annual Giving
Emily Etzkorn, VanillaSoft
UC 312
Student employees are a critical piece of education annual giving programs. In this session, Emily Etzkorn, Fundraising Evangelist with VanillaSoft, will look at the benefits of having students as part of the annual giving office – even if you don't have an engagement center. She'll look at the importance of recruiting, training, and coaching of students to make them an effective and integral part of the annual giving team.

Give Now, Pay Later: Flexible Giving for the Digital Wallet
Adam Martel, Givzey
The Discussion Lounge

Venmo, Apple Pay, PayPal, Visa Checkout… Digital wallets are growing every year. While some institutions find reasons to limit these options, leaders who welcome new giving options are seeing as much as 10% of all online giving come through digital wallets. Donor behaviors are changing due to pure convenience. But what if you were to make your digital wallet payment options more than just convenient? What if you were to make them valuable to the donor and your institution, alike? Give Now, Pay Later flexible giving is taking the value of the digital wallet to the next level. Donors gain the flexibility to pay for a gift over time and institutions collect the full gift amount, immediately. This talk will examine the value of digital wallets and show you ways they can help you increase gifts for your annual fund.
1:00-1:15 p.m. – Conference Closing and Sponsor Drawing