The Diane Thompson Award
The Diane Thompson Award is an annual scholarship awarded to a senior annual giving professional who, in the opinion of the Northeast Annual Giving Association Executive Board, has exhibited excellence in annual giving practice and commitment to the profession. First presented in 2015, the award is named after Diane Thompson, one of the founders of the Northeast Annual Giving Conference.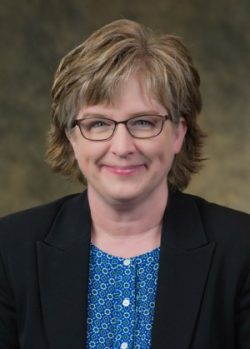 2020 Recipient: Angie Myers
Angie Myers has over 20 years of experience in higher education fundraising. She recently served as the Director of the Annual Fund for the Pennsylvania College of Technology. She provided leadership in the development and implementation of all annual giving activities including direct mail solicitations, Phonathon, Employee Campaign and Student Philanthropy initiatives. She assumed the key role in all planning and implementation of the annual giving goals.
Prior to joining the staff at Penn College, Angie served as a Director of Client Services for Ruffalo Noel Levitz where she was responsible for the management, growth, and development of key account partnerships. She created and managed project plans, worked closely with multiple stakeholders and provided exceptional service to ensure client results were exceeded.
Angie spent 15 years of her career at Bucknell University serving in various capacities including Senior Assistant Director of Annual Fund Outreach and Analysis, Assistant Director of Student Programs and Senior Program Manager for their Phonathon efforts. She conducted data analytics identifying giving trends, built a highly effective calling program known for its quality control component, developed ongoing goals and strategies to ensure achievement of overall annual metrics.
She provides independent consultant services in Phonathon and Annual Giving areas to colleges and universities which has taken her as far as Australia. She served as a member of the Parents Leadership Council at Bloomsburg University and is a member of CASE and the Annual Giving Network.
2019 Recipient: Colin Hennessy
2018 Recipient: Tammy Schlafer
2017 Recipient: Lishelle Blakemore
2016 Recipient: Tammie Ruda
2015 Recipient: Diane Thompson